DemoFest
Real People. Real Projects. Real Solutions.
how things really work!
It's time to see real projects in action! DemoFest is one of the most fun and inspirational activities at Learning Solutions. This science fair-like event is a collective showcase of eLearning examples created by members of the Learning Solutions community. We're excited to offer this year's DemoFest in an exciting new virtual format as part of the digital experience. We've taken the core elements of what attendees love most about DemoFest—the ability to informally browse projects at leisure, and to connect with and learn from the people who built them—and expanded the value even further!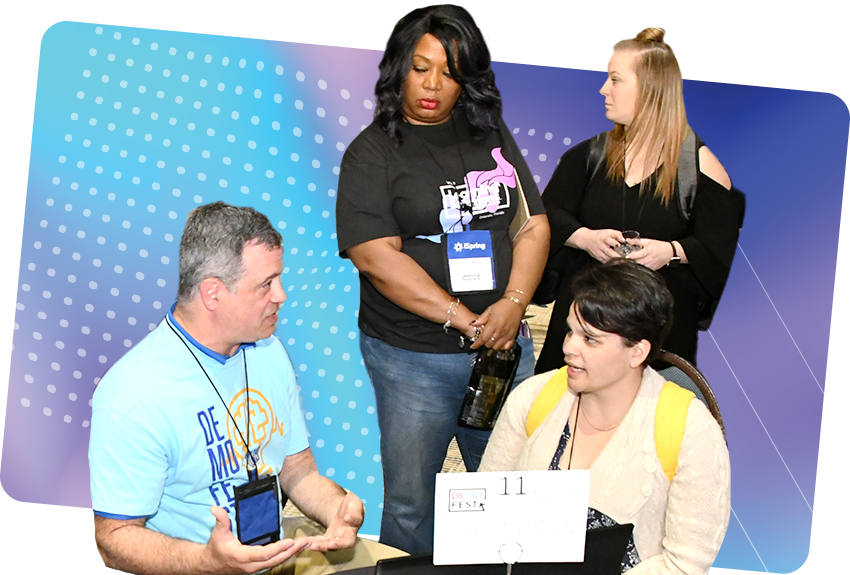 What's Different About DemoFest at the Digital Experience?
Here's a quick summary of how DemoFest will work:
DemoFest projects will be shared via short, pre-recorded demonstrations of 4 - 6 minutes.
Attendees will be able to enter the virtual room and watch the demo on-demand.
The people who built the project will be present in the virtual room during DemoFest, enabling you to ask questions and give feedback on each project.
DemoFest will run on Friday, May 7, 2021.
See a list of projects presenting at DemoFest!
There's No Project Too Small. Show Off Your Latest Work!
There are two ways to participate:
Present
Gain industry recognition (you might even win a Best of DemoFest award!)
Share your work to help the community learn from your efforts
Get valuable feedback from other learning professionals
A complete DemoFest application has two components:
The DemoFest application form must be submitted by Friday, April 2, 2021.
Files for the demonstration video will be accepted through Friday, April 9.
The submission deadline is April 2, 2021.
Attend
Come see dozens of learning projects
Network with industry colleagues
Get great ideas that you can apply to your work
Vote on your favorite solutions