Learning Solutions Expo+ Pass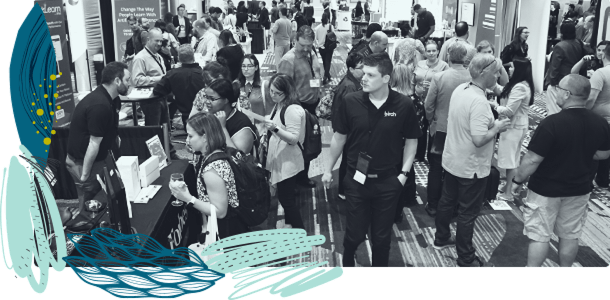 Sign up to gain free access to a highly focused collection of leading learning suppliers offering the latest learning technologies, tools, products, and services—all conveniently under one roof!
With an Expo+ Pass, you will have access to:
Expo Hall

Visit both days of the Learning Solutions Expo on March 31 and April 1, and connect with 75+ top suppliers of leading learning tools, technologies, and solutions (and connect with colleagues at the lively Expo Reception).
DemoFest


Explore real-world learning solutions created by your peers at DemoFest. Meet the trailblazers who created these projects and learn about the tools, technologies, and processes used to build them.
AR/VR Learning Lab

Put on a headset and explore today's leading virtual reality platforms and the hottest applications highlighting their potential for organizational learning.
Learning Stages

Broaden your knowledge with four featured Expo learning stages, each hosting a full schedule of 45-minute sessions on the best practices, the hottest topics, and the most innovative ideas in eLearning–all led by industry experts and suppliers.
Exclusive Expo-Only Offers
Get access to exclusive Expo-only offers you won't find anywhere else that will make purchasing and testing products easier, your job smoother, and your budget go further.
Special Events
Join us for special events. Investigate ideas for using tools in creative ways at How I Made This, enjoy learning improv during Presentation Roulette, explore how play can make learning stick at Game Crawl, and more!
Expo+ Pass Schedule
Monday, March 30, 2020
| | |
| --- | --- |
| 4:00p – 6:00p | How I Made This |
| 6:00p – 7:00p | Presentation Roulette |
Tuesday, March 31, 2020
| | |
| --- | --- |
| 9:30a – 6:30p | Expo Open |
| 9:30a – 5:00p | AR/VR Learning Lab |
| 10:00a – 6:00p | Learning Stages Open |
| 10:00a – 10:45a | Networking Break |
| 12:15p – 1:15p | Dessert & Expo |
| 2:00p – 2:30p | Ice Cream Social |
| 5:00p – 6:30p | Expo Reception |
Wednesday, April 1, 2020
| | |
| --- | --- |
| 9:30a – 3:00p | Expo Open |
| 9:30a – 3:00p | AR/VR Learning Lab |
| 10:00a – 2:45p | Learning Stages Open |
| 10:00a – 10:45a | Networking Break |
| 2:00p – 2:30p | Networking Break |
| 5:00p – 6:30p | DemoFest |