LMS & Learning Platforms Forum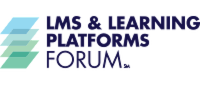 Successful learning organization leaders invest in technology wisely. The challenge lies in choosing the technology that best supports your organization's culture and strategic goals. Until recently, learning organization leaders only needed to consider a learning management system (LMS). Now, we are seeing a wider array of learning platforms, like learning record stores (LRS), learning experience platforms (LXP), talent management systems (TMS), adaptive learning platforms, knowledge exchanges, communication and collaboration platforms, microlearning platforms, and more. Each has its own distinct features, benefits, and risks, and each generates its own set of data and reports. So which of these platforms, if any, is best suited to your organization's culture and strategy? Or is the LMS enough?
The LMS & Learning Platforms Forum is a unique opportunity for learning leaders to get a handle on the evolving learning platform landscape. You will explore the unique characteristics, advantages, and risks of the various platforms so you can determine the right fit for your organization. You will explore the new roles, skills, and responsibilities needed so you can shape and develop your team. You will discover how to align your technology decisions with business and learning strategies in order to maximize the return on your capital investments. And you will explore three key reasons for collecting and reporting data on your learning solutions—evidence of impact, compliance, and continuous improvement—and how different technologies can deliver upon that need.
The LMS & Learning Platforms Forum will help you harness the potential of the learning platforms landscape and arm you with the insight to use technology effectively and strategically in your organization.
Schedule
8:30a – 8:45a
Welcome
8:45a – 10:00a

Exploring the Evolving Landscape of Learning Platforms

The world of learning platforms continues to expand. While the learning management systems we have counted on for decades continue to advance and evolve, we're also seeing new platforms emerge that provide unique functionality. We will start our day examining the unique characteristics, advantages, and risks of the various platforms so you can determine the right fit for your organization's goals.

10:00a – 10:15a
Break
10:15a – 11:00a

How to Align Technology with Strategy and Culture

A learning platform is one of the most significant and sizeable purchases a learning and development department can make. It's critical that the platform you select can deliver on the goals of your organization. During this session, we will examine the important questions that need to be answered in order to ensure your learning platform selection provides a positive return on investment.

11:00a – 12:00p

The Learning and Performance Ecosystem at Intel

Many L&D Departments focus the LMS as their primary learning technology. But, the LMS does not exist in a vacuum. It is part of an ecosystem whose parts interact like the systems of a living organism. In this session, we will use process visualizations to explore the components of a Learning Technology landscape and learn about strategies that companies have used to make their systems work together efficiently and effectively.

12:00p – 1:00p
Lunch
1:00p – 2:00p

Expert Panel Discussion: The Insider's View on the Future of Learning Technology

We've invited some of our industry's leading learning platform providers to join us in a discussion exploring the future of the learning platforms market. We'll examine where they see the market going and how they see these diverse platforms augmenting an organization's learning and technology infrastructure.

2:00p – 2:30p

Staying Ahead of the Technology Curve

How do you get buy-in from your stakeholders when technology is always evolving? Discover how Vehicle Testing New Zealand (VTNZ) has overcome this challenge, keeping up with changes in technology over the years while supporting a mix of face-to-face and eLearning programs, and managing all the changes without overwhelming staff.

2:30p – 2:45p
Break

2:45p – 3:15p

L&D Goes Mobile

People have been learning on their smartphones and tablets for more than a decade, yet many enterprise L&D teams have not fully realized mobile learning's potential to deliver an intuitive, engaging learning experience in a scalable, secure environment for deskless workers. This session features case studies to showcase how content, engagement, tracking, and interaction are evolving to meet the demands of today's workers seeking just-in-time information and learning new skills.

3:15p – 3:45p

Assembling Your "A" Team

Having technologies that provide new functionality is exciting, but your team needs to be able to design content for these new systems in order to enjoy their potential. During this session, we will examine the responsibilities, skills, and new roles of the L&D dream team.

3:45p
Closing
Forum Speakers
Ben Betts
Chief Product Officer, Learning Pool

Ben Betts is the chief product officer for Learning Pool, a global leader in learning technology. His role at Learning Pool is to define and develop the next generation of workplace digital learning platforms, with a focus on learning experience platforms and the learning analytics space.

Prior to Learning Pool, Ben helped to build HT2 Labs from humble beginnings into a globally recognized innovator in workplace digital learning. Ben's expertise is based in research; he completed his PhD researching the impact of gamification on adult social learning. Ben has authored and contributed chapters for many books, has two peer-reviewed academic papers, and has presented at conferences around the world, including TEDx.

Adam Weisblatt
Learning Systems Strategist, Blank Page Learning

Adam Weisblatt is a learning strategist with a passion for creating learner-centered experiences and business-centered learning systems and processes. He is the founder of Blank Page Learning, which helps companies develop strategies integrating learning technologies to open the doors of new ideas and break down the barriers to learning. Adam has 20 years of experience in all aspects of workplace learning and implementing global enterprise-wide projects. He has been an instructor, eLearning designer, and programmer, as well as a performance artist, puppeteer, and cartoonist.

Cory Wiltbank
Director of Corporate Learning and Development, Intel Corp

Cory Wiltbank is the director of corporate learning and development at Intel Corp. He is responsible for ensuring that all corporate learning programs at Intel—from digital to classroom—provide the best possible experience for learners. Cory strongly believes that great learning and development experiences yield strong employee engagement—the key to growth and innovation. He has developed, launched, and delivered award-winning global learning and development programs that reach all levels of leadership. Cory is a certified design thinking coach and manager development facilitator. He is passionate about facilitation, great classroom learning, digital or tech-assisted learning, and microlearning. He holds a BS in economics from Arizona State University and an MBA from UC Berkeley, Haas School of Business.
Forum Host and Facilitator
Steve Foreman
President, InfoMedia Designs

Steve Foreman is the author of The LMS Guidebook and president of InfoMedia Designs, a provider of eLearning infrastructure consulting services and technology solutions to large companies, academic institutions, professional associations, government, and military. Steve works with forward-looking organizations to find new and effective ways to apply computer technology to support human performance. His work includes enterprise learning strategy, learning and performance ecosystem solutions, LMS selection and implementation, learning-technology architecture and integration, expert-knowledge harvesting, knowledge management, and innovative performance-centered solutions that blend working and learning.
Do More and Save More!
Save $100 on your LMS & Learning Platforms Forum registration when you also register for Learning Solutions 2020—in addition to all other discounts for which you may qualify!