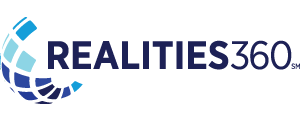 Augmented and virtual realties are being used to solve training and education challenges every day. Realities360 is the premier event for exploring how these technologies work in training and development.
2021 Realities360 is a one-day event that focuses exclusively on the strategies and opportunities of virtual and augmented reality tailored just for the learning and development industry. You'll immerse yourself in the technologies and engage in conversations that enable you to put those experiences into the context of your work in training and development.
Expert speakers will give you tips, tricks, and the knowledge you need to build your skill set and incorporate specific tools into your work.
Who should attend
Whether you're a novice to the world of AR and VR or you have more experience with these technologies and are looking for a deeper dive, Realities360 is designed for you. Come connect with your peers and participate in conversations surrounding how this technology will affect the training, education, and learning moving forward.